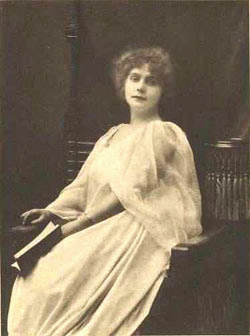 An interesting novelist and speaker as well was a lady going by the name Marie Corelli (ca 1855-1924). She was hugely popular at the time, but nowadays she is rarely mentioned, if not forgotten. Excepted only by various New Age groups that have included the various supernatural inclined titles of her works in their booklists. An exceptional lady, that had strong principles, and was not easy going either. I find she had an interesting ability to weave spiritual aspects in various of her stories and that in a personal manner.
Little known is that it is only thanks to her that the surrounding buildings to Shakespeare's birthplace in Henley street in Stratford-upon-Avon still exist today! It was found that these 2 buildings were once owned by 2 granddaughters of William Shakespeare. During the early 1900s they got lined up for demolition, to be replaced by a to be build library. It became quite a battle, and although against here own wishes, Miss Corelli became the leading voice against their demolition. That library, in the end, did get build, but at some nearby place.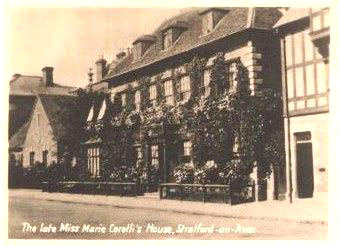 Not all of your novels offers the same quality. Marie Corelli does tend to melodrama. The style was still very popular during her most productive time. But in later years starting particularly during the '30s it undoubtedly would have been a contributing why the popularity of her books decreased and this rather rapidly. They simply had become old-fashion. Another reason for this lessened popularity would be that her books contained many conversations of people that had not always a direct relation to the main story. The times-were-a-changing and people were rushed. It remains however true that she wrote some very interesting books that even today still would pass the test. You are not just reading a novel, you are learning something that goes a lot deeper than the rushing materialistical world we live in. An unseen world but one that is nonetheless tangible. Many of her ideas and topics that she chose were new. All this lead to that she was deemed extremely popular by the common people and on the other hand had to suffer a lot of malice from the literary world that generally was of the opinion that her books were rubbish. But her books, at least back then, sold 3 times better than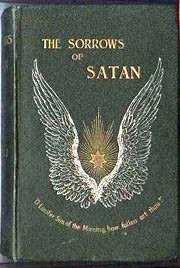 he that came second place in sales figures. Queen Victoria had a complete library of her books, and always wanted to have send the latest that she had published. A third factor can be found in that the late 1800s were the years of the firm establishment of materialism. We had Charles Darwin publishing his books, then we had Friedrich Nietzsche, and a whole variety of others.
It is worth looking at her book 'The Sorrows of Satan' (1895) (on the right you'll find a scanning from the front cover of the first London: Methuen edition). It is an intriguing and very original approach towards the role of the devil, or shall we call him Lucifer. A second place I would give to 'Vendetta' (1887), this one is not for everyone's taste though. Her first published book 'A Romance of Two Worlds' (1886) is actually a very good start. She really wrote some very original and very strong books. After reading any of them one will not generally experience that one had no opportunity to learn something about live itself, or get some fresh ideas and angles of how one could view matters.
I will be at any time interested in interesting items re or by Corelli, this really could be anything!
"There is no Death, what seems so is transition."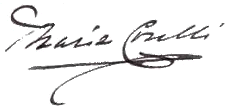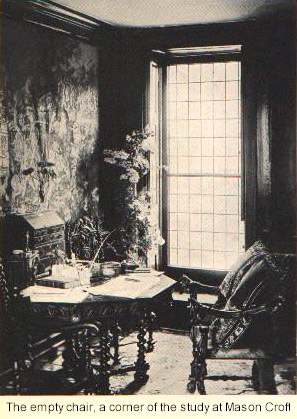 ---
Copyright © 1998, 2012 Michel Snoeck. All rights reserved.
This page revised: 6 August, 2019