Magazine Articles with Catweazle
---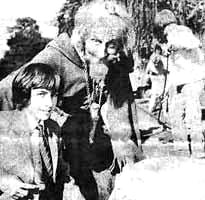 Touch of Magic in the Air
(from: ''THE HERTFORDSHIRE MERCURY' 21st August 1970)


THERE is a touch of magic in the air at Brickendonbury this summer. A strange looking old man, dressed in a bedraggled cloak is wandering about "casting his spells".
Making a popular return to "life" in the 20th century is Catweazle, the medieval magician, alias actor Geoffrey Bayldon. He is starring in London Weekend International's television series on the magician.
In his last appearance, or disappearance to be more exact, Catweazle, all out of time, vanished into a lake.
In a new 13-episode colour series, due to be shown in the New Year, the lovable sorcerer reappears at Brickendonbury - home of 12-year-old Cedric and his parents Lord and Lady Collingford.
The stars of the series and the production team are working at the house, formerly used by the Ministry of Agriculture and Fisheries.
Apart from the heavily disguised Geoffrey Bayldon, the program includes several well-known names. Elspet Gray - or Mrs Brian Rix - and Moray Watson play Lord and Lady Collingford, and Peter Butterworth is Groome, the gardener.
Geoffrey Bayldon, who has made three films since the last series, admits that the work is very strenuous. "I arrive at Brickendon at seven every morning and it takes one-and-a-half hours to be made up."
He prefers television to theater, however, because, he says, the actor is always doing something different. But once the filming of Catweazle is finished in some three months time he will be off for a well-deserved holiday.
Playing the part of young Cedric is 16-year-old Gary Warren, who has just finished filming "The Railway Children", due for release in December.
He has appeared in several television series before and acted in the West End musical "Mame", with Ginger Rogers.
In this forthcoming series, Catweazle lives in a disused railway station, which has been constructed in the outhouses at Brickendonbury.
Some of the equipment used in the station has been borrowed from the Railway Museum Society, at Great Molewood, Hertford.
The film crew has taken over the complete house at Brickendonbury, so if you see strange happenings up on the hill, you will know it is only Catweazle up to his tricks.
---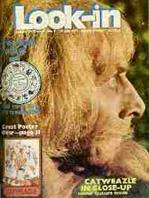 Catweazle in Close-up
(from: 'LOOK-IN 23rd January 1971')

LOOK-IN reporter Angus Allan corners television's confused weaver of spells for an on-the spot interview
(Photographs by Paul Stokes)"Writer's scribbles, fade away! Salmay, Dalmay, Adonay!" Catweazle fizzed and fumed, and the notebook in my hand ought to have turned red hot and vanished. But it didn't. Well, that's the way with Catweazle. I suppose someone else's notebook, probably on the other side of earth, did the disappearing act. He isn't renowned for getting his spells right!
Maybe he felt a bit out of place, sitting up in the dressing room of that stately-type home in Hertfordshire, where the shooting of the second Catweazle series was taking place. After all, there was someone else's name on the door -Geoffrey Bayldon's. And below, the rooms were crammed with all sorts of camera and lighting equipment, and men with beards in variety - all of them a thousand times neater than our favourite wizard's!
"How", I asked actor Geoffrey Bayldon, "do you put up with it? I know who you are. But every time I ask you a question, the whiskery make-up quivers, and out comes Catweazle with the answer!"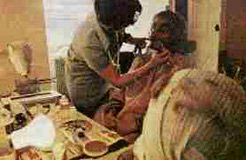 Geoffrey tried to speak, but as I'd thought, Catweazle surfaced first. "I live! I live yet in these plaguy times", he quavered. "This body is a mere vehicle for me! The glass-screened seeing box upon which I appear is magic. My magic!"
"He really thinks it is", said Geoffrey, taking off the beard and banishing the witch in him for the moment. "Catweazle does exist and sometimes I'm terrified that he's going to take me over for keeps. Do you know, I find him coming to the surface (he twitched uncomfortably, as though it was actually happening at that moment) even when I'm my normal self, and out of these ragged clothes!
"Take my cat", he said. "Now, in the days B.C. - that means 'before Catweazle', of course - I used to speak to him just like any other normal British human being would. You know - 'puss puss pussums' and that sort of thing. Now I find myself hissing and fizzing at him just like Catweazle would do - and, believe it or not, I think the cat likes me better that way!"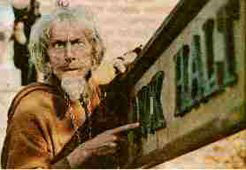 Geoffrey Bayldon, despite a sane career in serious theater, really does believe in Catweazle. He sympathizes with his bewilderment in this modern world. "Catweazle has a marvelous time in the new series", he told me. "I mean, who wouldn't like to live in a deserted railway station called Duck Halt, and baffle the lives out of a hard-up family of nobility, trying to keep a stately home together? He has this quest to find the twelve signs of the zodiac. And there are hilarious misunderstandings all the way! What about his transport, too? The old tricycle he finds! Now the beard went back on and Catweazle, obviously irritated at having been kept out so long, burst back into life.
"Bah! This prattle-head Bayldon is a knave", he shouted. "A varlet! Know ye that the toad's-spittle does not even believe in the magic of the zodiac?" He thought for a moment, and then, with narrowed eyes, he peered at me and fingered Adamcos, the witch-knife, hanging round his neck. "Believe ye in the zodiac, writer?"
I left, hurriedly, just in case he cast a spell to turn me into a companion for Touchwood. Not that I had any fear that I'd become a toad. But with his spells, my fate might have been even worse!
---
A Magician's Mate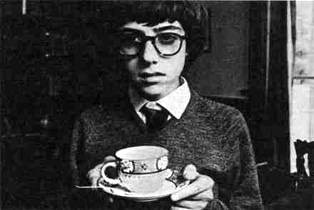 An interview with Catweazle's co-star, actor Gary Warren.
(from: 'LOOK-IN 13th March 1971')

WHEN YOU'RE A PLAYMATE OF THAT WHISKERY 11th-CENTURY WIZARD CATWEAZLE, A LITTLE BIT OF THE MAGIC SEEMS TO RUB OFF. Just ask sixteen-year old actor Gary Warren, who appears with him in the current series as Cedric.
For instance, you would think you would need a spot of old time sorcery to be allowed to leave grammar school at thirteen. Or to have the grounds of a stately home in Hertfordshire turned into your own private learn-to-drive course. But it has happened to Gary.
"I always wanted to be an actor" he said. "And I was lucky enough to land a small part as Pinnochio in the ITV programme Disne y Wonderland when I was twelve. But it meant I had to have two days off school every week for rehearsals. Then I started getting parts in plays and in Z-Cars which meant I was getting about four full weeks off each term.
"The headmaster of my grammar school in St. John's Wood, London, wasn't very keen on my missing out so much schooling. So I left school officially to go to the Aida Foster Stage School, where I could combine general education with dance and stage training."
Gary graduated two years ago, and has hardly stopped acting since. He's been a consistent wage earner since he was twelve, and most of his pocket-money is spent on pop records. He has a collection of well over one-hundred albums at his home at Neasden, North London.
He's also a soccer fan and supports Queen's Park Rangers. "I've only missed one home game this season", he said. "And when you're on call at the studios as much as I am, it isn't always easy to dodge away to watch football."
Working in Catweazle alone meant Gary only had one day off (officially) in fourteen weeks - and he has also been busy in the film The Railway Children.
Small for his age - he's exactly five foot tall - Gary gets a lot of parts playing boys younger than himself. "I don't mind as long as the script is good", he said. "You don't feel soppy if you can believe in the words you are saying." And he doesn't expect special treatment from his friends because he appears regularly on television and in films. "They don't keep on about it", he said. "I'm just one of the boys."
Gary has no serious girl-friends and travels about, like anyone else, on the bus and tube. "But I'm looking forward to being able to have my own car, when I'm old enough to apply for a provisional license in July", he said.
"I've managed to get in quite a lot of practice. The cast in Catweazle were super; they allowed me to use their cars in the grounds of the stately Collingford home in Hertfordshire."
---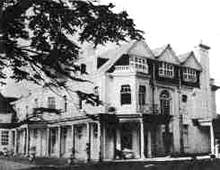 Catweazle's Castle
(from: 'LOOK-IN 6th May 1972')

The old house that provided the background to the series 'Catweazle' has a very strange story behind it. Producer Carl Mannin retells how, before they even knew that Brickendonbury existed, the scriptwriter Richard Carpenter had described the place he anted Catweazle to live in. "Firstly, he wanted a Norman castle to show Catweazle's escape, but we realized how difficult it would be to find one we could use. So then Richard wrote that the house he imagined was situated on the site of the old castle which was burnt down in the 1850s and was rebuilt by the owners.
Then we found Brickendonbury. There were stories that it had been used during the war to train British agents, and that Winston Churchill used it as his secret headquarters.
But what really stunned us was that we discovered it actually had been built on an old castle site, and it really had been burnt down in the 1850s!"
There's more to Catweazle than meets the camera...
---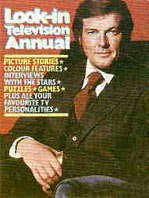 MAGIC WHISKERS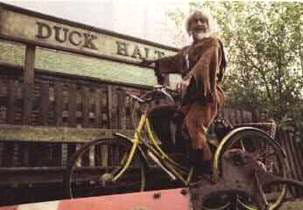 Another look at the strange old wizard, CATWEAZLE
(from: 'LOOK-IN Television Annual 1972')

"Tchach! Nothing works!" Catweazle flung down Adamcos the witch-knife so that Touchwood, his toad, had to scatter nimbly out of the way.
Catweazle had been asked to show us some simple magic, but, as usual, no amount of spell-binding and muttering had done the trick. Perhaps it was as well, knowing the sort of cock-eyed results he usually gets!
And yet, there is real magic about Catweazle. The magic that happens whenever Geoffrey Bayldon, who plays the part, puts on the wig and whiskers, and swathes himself in the revolting old rags that Catweazle wears.
"It's the sort of magic", Geoffrey points out, "that made Doctor Jekyll into Mr. Hyde - turned him, in fact, into a completely different sort of person. When I look like Catweazle, Geoffrey Bayldon ceases to exist, and I really become the old witch who's tumbled forward into the present day from Norman times."
Forty-six-year-old Geoffrey, who lives a normal life in a London suburb, with a normal cat that certainly isn't given to perching on flying broomsticks, confesses that spells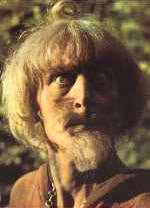 and the like aren't his cup of tea.
His career, too, before Catweazle came along, has been most decidedly normal. He trained to be an architect, then joined the Old Vic Theatre School in 1947. Television appearances and films - they include 'A Dandy in Aspic' and 'To Sir With Love' - have been strictly non-magical.
"When we first started out on Catweazle", Geoffrey says, "We had to carry out a lot of experiments to get the old beggar's face just right. Eventually, the make-up people messed about with the wig and those whiskers, and curled them into the appropriate shape. And the funny thing was, when I put them on, I honestly began to feel fizzy and cantankerous!"
At the first filming, the old gown he wore didn't look right. "So everyone on the set got busy with scissors and started shredding me about. Then came ink, mud and all sorts of muck to make me look as filthy as possible."
It means two baths for Geoffrey every time a Catweazle shooting is over, and then it's back to normality. "You should see those baths", grins Geoffrey. "By the time I've finished they look like the sort of cauldrons Catweazle would be simply delighted with!"
---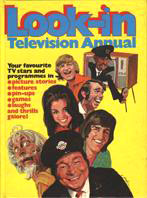 The Young Stars

(excerpt)
(from: 'LOOK-IN Television Annual 1973')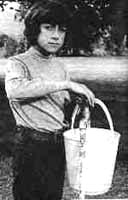 * GARY WARREN
Gary was born in July, 1954, and started to act when he joined the Aida Foster School in 1967. There, he combined a general education with dance and drama.
Four-feet-ten-inches-tall Gary is an only child. He has always been exceptionally small for his age. This fact, combined with his acting ability, has put him in great demand, and he has played leading roles in television, films and theatre.
His first television part, at the age of twelve, was as Pinnochio in Disney Wonderland. He also played young Patrick in Mame, at the Royal Theatre, Drury Lane.
His film appearances include The Railway Children, Up in the Air, and Computers in Banking. But Gary is best known for his role as Cedric, in Catweazle.
Gary has many hobbies and he's very fond of sport; football, cricket, table-tennis and bowling are a few of the games he enjoys.
---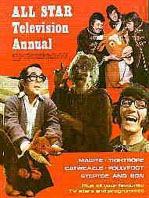 So, why does Catweazle want to return to his own time - he'll only get burnt!
(from: 'ALL STAR Television Annual 1973')


"Nothing works!" If you should hear that agonized cry coming from a lonely wood or a ruined castle, then keep well clear. For it's a sure sign that Catweazle is at work - and if you get mixed up with that wacky wizard's spells you're liable to find yourself turned into a toad, if nothing worse!
Catweazle, the magician whose spells always go wrong, made his first television appearance back in February 1970. Viewers of the first episode saw Catweazle, a Saxon sorcerer in 11th-century England, chased by angry Norman soldiers. To escape their swords, the old wizard mumbled a "flying" spell - but instead of flying through space, his hocus-pocus sent him hurtling through time to the 20th century.
And that's when the fun began; Catweazle came from a time when all the things we take for granted - electric power, motor-cars, telephones, radio and television and so on - were undreamed of.
In Catweazle's time, anyone who could light a room just by throwing a switch would have been recognized as a very powerful magician indeed - so to poor Catweazle, the modern world is full of sorcerers who can perform all kinds of marvels.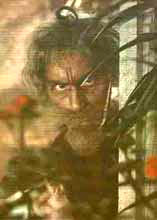 And when those who befriend him, and they are few, try to explain that these modern wonders are not produced by magic - Catweazle just doesn't believe them. To him, people like you and me are mighty enchanters, too jealous of our secrets to share them with a bumbling, fumbling warlock whose only wish is to find a spell to take him back to his own time. Poor old Catweazle!
But were things really that much better for people like Catweazle back in the 11th century? Catweazle, remember, is a Saxon - very much a second-class citizen in an England ruled by the Norman lords who swarmed across from France after William the Conqueror's victory over the Saxon King Harold at Hastings in 1066.
The Norman conquest meant that the Saxons lost everything. The Saxon lords' castles and lands were taken away and given to Norman nobles, and the ordinary Saxons - the labourers, clerks and merchants - found themselves ruled by proud and stern men speaking a foreign language. Saxon rule had been fairly easy-going; the Normans introduced their much harsher laws, laws that meant a man could be put to death for seeming even to question his lord's orders, or that a man could have his hands chopped off and his face branded with a red-hot iron for daring to set a snare for rabbits on his lord's land.
And this is where Catweazle, and men and women like him, made their appearance in history. Armed revolt against the Normans was useless - the few Saxons who tried it, like Hereward the Wake, were mercilessly hunted down and killed - so the superstitious peasants turned to magic and witchcraft. It was a little like the French Resistance to the Germans in World War II, except that instead of blowing up railway lines and sabotaging factories, the Saxon peasants cast spells and chanted rituals that, they hoped, would bring the forces of evil to take vengeance on the Normans.
One Saxon, a little more learned than the rest (and remember that very few people could read or write in those times), would set up as a witch, a term then applied to both male and female sorcerers. He might believe that he really could work magic, which most people believed in at that time, or he might like the power and respect that his supposed supernatural knowledge gave him among his fellow Saxons.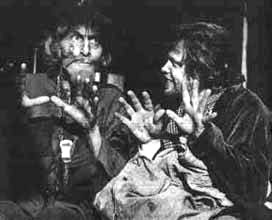 Around him, the witch would gather a band of followers, traditionally thirteen in number and called a "coven", who met on certain nights (the most popular being Midsummer Eve and Walpurgis Night, October 31, when the forces of evil are said to be at their strongest) to carry out secret rites, dances and the chanting of spells, aimed at persuading the Devil to join them in the fight against the Normans. It was the beginning of what historians call 'modern' witchcraft in England.
The Norman rulers, the Church (which had nearly as much power as the King in those days), and even the few Saxon lords who retained any power, were all opposed to witchcraft - for it was a movement that threatened to stir up the peasants in revolt against the nobility. Cruel laws were passed against witches and sorcerers: even to be suspected of witchcraft meant that a man could be arrested, tortured until he confessed, and then executed in any one of a number of unpleasant ways.
In England, between the 11th and 17th centuries, several thousand people were executed as witches.
No laughing matter: but somehow one can't imagine Catweazle having much to do with the powers of evil. If he did try to get in touch with them, he'd most certainly get a crossed line. And you can settle back to laugh at his antics, secure in the knowledge that behind the make-up, the rags and whiskers, is actor Geoffrey Bayldon, whose "off-stage" activities include nothing more sinister than collecting old paintings and gardening.
---
RICHARD CARPENTER an interview


by Stephen McKay (excerpt)
(from: 'TIME SCREEN Spring 1990')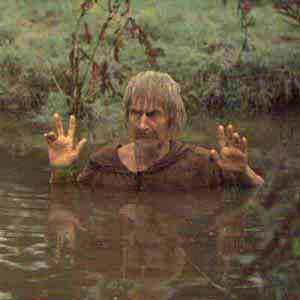 Richard Carpenter was born in King's Lynn, Norfolk and grew up in the county. His interest in acting lead him first to the Old Vic Theatre School and from there he went on to perform in rep, all over the country and make (according to his publisher) over three-hundred appearances on television. We caught up with Richard Carpenter during a break at the 1988 Greenwood II Convention.

We started by asking Richard how he came to make the career change from actor to writer? " 'CATWEAZLE' was my first job as a script writer. I had been an actor for seventeen years and things were beginning to get a bit tough. I had changed agents but it hadn't really worked. I read an article in 'Vogue' by the head of London Weekend Television saying that if there was talent about it always got caught in the net, no talent got lost, which I thought was an absurd statement because I know a lot of actors who could be stars today, but they're not. It's the luck of the game, not that I would have ever been a star, but I did quite well and had a good run. I was doing a play in the West End for about a year called 'WAIT UNTIL DARK' and I had quite frankly got fed up with acting.

Annie, my wife, and I went down to my brother-in-law's turkey farm and on the way back we got lost so we stopped to try and find out where we were and there was a gate. On the gate was the word 'Catweazle'. I thought that was a most unusual name, and I wrote it on a piece of paper. From there I started writing little things, and I suddenly saw the character; I had a book of 'A Hundred Details of the National Gallery', and one of them was a picture by Hieronymous Bosch, 'The Crowning of Thorns'. I saw this little old man and said to myself 'That's Catweazle'. Then it came to me that he was a magician. I had always been interested in things concerning the manipulation of time, and I had never seen a show where someone came from the past into the present. I thought 'who could come from the past to the present and still retain their sanity, except somebody who could rationalize it'. And the only person who could make some sort of sense out of what they saw would be a magician who believed that he was in a world of new magic. So from that it began to build up. I was very lucky. It was the first thing I'd written. It was accepted. I had a very fine script editor/producer called Joy Whitby, and a wonderful director/producer called Quentin Lawrence and we became dear friends. The show won the Writer's Guild Award for the best children's television programme and the series became a bit of a cult. I wrote the little book and everything else happened and I haven't stopped writing since. So I owe a lot to 'CATWEAZLE'.

How did Richard submit the idea of 'CATWEAZLE' to London Weekend ? "It originally started life as a concept, I then wrote six scripts on spec. Joy Whitby went off on holiday and lent me her office, and I wrote them quite fast because I was excited at the chance of selling to London Weekend. Then I didn't hear anything for a long time and then they said, yes, they were going to do six. By the time we actually got round to starting to shoot the first one they commissioned another seven, then they commissioned another thirteen, so we did twenty-six. There were a series of political changes at London Weekend which meant that the people who were there when 'CATWEAZLE' started, and who would have continued the show had left and the new broom always sweeps clean, they don't want to do an old show. They wanted to do something new so I'm afraid it got axed, even though the public wanted it."

Was Richard Carpenter involved in the casting of Geoffrey Bayldon for the title role? "I wasn't just involved, he was my choice. I think it's the first and last time that I've ever cast the lead of anything I've written. Funnily enough, first of all they wanted Jon Pertwee. Jon Pertwee was flavour of the month, but they couldn't get him or he'd turned them down or he might even have got the role of 'DOCTOR WHO' by then. So I said 'What about my original idea, Geoffrey Bayldon?' And they got him in, and of course he was so obviously right as by that time I was writing for him. Geoffrey was an old friend of mine. We both trained at the Old Vic theatre school at different times, but I'd worked with him as an actor on several plays. He was a good friend and I knew he could do it and that nobody would be better. He made the part his own and he brought to the role lots and lots of qualities which enabled me to make the part grow. He was wonderful, absolutely wonderful.

"I was also very lucky with the director; it was the happiest show that I've ever been connected with. I made a very great personal friend in Quentin Lawrence. Of course we fought professionally, but we became very good friends. We then did 'THE GHOSTS OF MOTLEY HALL' together and were going to do 'MISTRESS MASHAM'S REPOSE' the T.H. White book. When he died unfortunately we were planning to do another show together because we had the same sense of humour. We did eighteen episodes of 'THE GHOSTS OF MOTLEY HALL', three sixes and a special which was a double episode, a Christmas show called 'Phantomine'. I pulled stumps on that particular series. They wanted to do another season but I told them I was written out, I'd written everything I could on that particular subject. At least to keep going I would have had to have a year off and come back to it afresh. I think that shows have a life-span of their own, whereas wit CATWEAZLE we could easily have done two more seasons, I felt by episode nineteen of 'THE GHOSTS OF MOTLEY HALL' we had exhausted the show. I was told to write a show with one set and that is what gave me the idea. It is often very good for a writer to have constraints because it forces you back to using ingenuity and artistry. If you are told ' you've got $40,000,000 budget, do what you like, you come up with nothing really, nothing of any artistic value. But if you are told 'three people in a single room, an hour and a half play' then it's got to be in the writing. I always try and limit the number of characters I use, because the more you limit it the more you are thrown back into interrelating those characters in an interesting way. Ultimately it isn't stories that are important, its characters, the way they react and the way that particular writer scripts that particular situation. Because all situations are common to drama, there are millions of the same situation appearing again and again, but it's the way the writer tackles it that makes it unique and gives it a stamp of personality.

What gave Richard the idea of the magic zodiac link between the stories in season two of 'CATWEAZLE'? "I knew I had thirteen episodes to write and I was trying to think of some theme that could be common for all thirteen. I thought, 'I wish it was twelve then I could do the signs of the Zodiac'. Why not? Let's have a thirteenth sign and then people are going to wonder what the thirteenth sign of the Zodiac is. Actually, what should have happened, we should have seen the magic circle that Catweazle had and each week he should have placed the object on the circle, but because the Americans - there was a chance we would be selling it to America - show everything out of sequence except soap operas they didn't do it, so the tightness that can be seen in the book was rather lost as a result of this. It would have been great to have seen all the objects from the other episodes as the Zodiac builds up. Kids love that sort of collecting.

After 'CATWEAZLE' I did 'THE ADVENTURES OF BLACK BEAUTY', originally I was contracted to do two, but I finished up doing about twenty. That was when I formed a partnership with Sydney Cole who used to be the production manager at Ealing when they made all the famous Ealing Comedies and was a great friend of Charles Crichton who made 'A FISH CALLED WANDA. Charles came and did '..BLACK BEAUTY's for us and I formed a great friendship with Charles similar to that I had with Quentin Lawrence. He was a similar man; educated, cultured, witty. He also possessed enormous technical ability and experience. These are the kind of people I like to work with, people who know their job and, this might sound snobbish but I don't mean to be, people who behave like gentlemen and treat you as a human being and respect your work and you respect them. You can still have professional disagreements without being subjective about it.

"After 'THE ADVENTURES OF BLACK BEAUTY', I had formed a partnership with Sydney and with Paul Knight who is a very, very talented guy. Paul and I became good friends, again largely because of his sense of humour, which is very dry and witty. He reads a lot and has a 'feel'. Some people just have an instinct, like you can have an instinctive actor. They may not be technically very good, but they just go on and act. Paul, as well as having all the technical know-how and experience, has a sort of instinct which tells him that this is going to work or this won't work and I listen to him, I listen to that voice. He's not always right, but neither am I, so it worked very well as a partnership.

"Then we did 'DICK TURPIN' and 'SMUGGLER' together. After that we wanted to do 'SMUGGLER' again, to use the same character, as we had Oliver Tobias. We managed to sell the idea, 'ADVENTURER', to Thames to do it in New Zealand, then we were sabotaged by Thames who put the whole series out in about two-and-a-half weeks in 1987. It was very naughty, it had a lot of quality. It was the best thing they had done in New Zealand for a great deal of time, certainly for children. They spent a lot of money on it. They cared and they were extremely nice to us. Sydney went out there and produced it, Chris Bailey, who was a brilliant young New Zealand director directed it. We had a very good cast. Only Olly was English, the rest were New Zealanders. It's all a lot of nonsense that New Zealand hasn't any actors, we had a brilliant young Maori who was wonderful and so were the other two; the Irish guy and the guy who played the Cockney who had never been to London.

But over here the show was totally sabotaged by Thames, and you can put that on the record, I don't care who reads that. In three weeks they showed twelve episodes of a show that had cost a lot of money and had taken twenty weeks to make. It deserved a better crack of the whip than that, it really did. Thames are saying that they aren't even going to bother to repeat it because it didn't get a very good viewing figure. Well how could it get a good viewing figure when they deliberately swept it under the carpet? The surprising thing is that it has been repeated in New Zealand and it has also been sold world-wide so New Zealand and Thames did very well out of it thank you very much. I know by the cheques that we keep getting for repeat fees that the show can't be that bad. It really annoys me that Thames should treat what was a co-production with such a cavalier attitude. They said it was too violent, and they gave various reasons none of which held up. I wrote to the programme controller at Thames, and I don't expect I'll ever work for Thames again, because I wrote a rather irritated letter about the way it had been treated. Not so much for my own sake, because I only wrote the first two and the last two, but really because if we are going to do co-productions, particularly in a country with a developing film industry as they've got in New Zealand, and because we were showing an aspect of life in another country with a different backgrounds, different scenery and different customs. There are a hundred stories in New Zealand that people could watch that would be internationally interesting and if you treat them like that they're not going to come back to you. I know that John McCray, whom I got on extremely well with, was the head of New Zealand's Drama series and is now the head of the company, is very hurt, and I don't blame him, by the way he was treated by Thames. He's a really professional chap who started off as a floor manager for the BBC, and worked his way up to classic series and then went back to New Zealand.

"This was before the did WORZEL GUMMIDGE DOWN UNDER in New Zealand. I nearly got involved with doing CATWEAZLE in New Zealand, but I thought better of it because I saw some of the stuff from the second season of WORZEL GUMMIDGE and quite frankly I wasn't too happy about the production values or the money they were going to spend. It looked like a sausage machine, and I'm only interested in producing quality shows. Whilst I can go on producing quality shows here I don't see why the hell I should ruin a success like CATWEAZLE by taking it to New Zealand. Just to do it is not important.

Does Richard think that there is a theme that runs through Richard's work? "I've always been interested in the person who is outside society and in fact if you look at all my stuff from CATWEAZLE onwards it's all to do with loaners and people who are outside society. In a sense that is the hero; the heroic figure is the man who takes on the world alone. I suppose that's in a sense true of CATWEAZLE because he has to take the world on alone because he's in a new world. It wasn't true of THE ADVENTURES OF BLACK BEAUTY; but that wasn't my format, that was Ted Willis'. It was certainly true of DICK TURPIN, it was certainly true of ROBIN OF SHERWOOD and of THE SMUGGLER and ADVENTURER character. And in a sense ghosts themselves are sort of loaners, out of the mainstream of existence, they're different people. There's a very good book about the hero figure by a man called Joseph Campbell. What he does is to take all the heroes out of myths and compare them and point out the similarities between them all. I think that if you can get a gut reaction from your audience, it's because deep, deep in their subconscious they are attracted to this idea of being your own man particularly in a society where very few people are 'their own man'. You're beset with VAT, parking meters and mass advertising and all the things that prevent people from really being individuals. I think all artists are sort of sub-conscious anarchists. I think there is an element of anarchy in all artists. They have a desire for change and possibly to pull down the existing order of things. But I believe in the essential goodness of man and the eventual redemption of man by himself. Not by gods and not by prophets that he turns into gods, but by himself, and when he grows up to the point of accepting that he is responsible for the world, not Jehovah, not Jesus Christ, not the local priest round the corner, but he, himself, is responsible for the world, then we will advance. I don't mean materialistically, I mean morally. I wouldn't hold my breath until it happens, but I believe that it ultimately would happen, and has to happen or we will destroy ourselves. I think that the instinct for self-preservation is so strong that man will eventually turn round and say "unless we improve we're not going to survive" and therefore he will improve. I think the next big advance is going to be in the evolution of the human brain. I don't think we need to evolve physically, because we've got machines that can lift heavy loads, and we've got machines that can fly so we've got no reason to grow wings. I think we have still a hell of a way to go in terms of our relationships with other people, and that the world is a very tiny speck and that basically we are all the same. These are my personal philosophies and it has very little to do with the programmes I write although obviously it does colour them in some ways."

Note: There is no further mention of Catweazle within this interview. However, should you wish to see more please write in.
---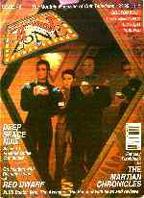 RICHARD CARPENTER A Catweazle Start...
by Jane Killick
(from: 'TV ZONE #46 September 1993')


RICHARD CARPENTER'S most remembered success is Robin of Sherwood which he created and wrote most of the episodes for in the mid-Eighties, but he started his writing career with another Fantasy favourite,Catweazle. TV Zone joined Richard Carpenter and his wife Annabel Lee, two cats and several dogs at his Hertfordshire home to talk about writing for the small screen.
Richard 'Kip' Carpenter began his professional life as an actor and acted fairly successfully for fifteen years, but after that time decided to write. "I was very lucky how I started because I wrote the right thing", he remembers. "I sent the idea to the right person at the right time. It was something they were actually looking for and so I didn't have any rejection slips at all. The very first thing I wrote was Catweazle."

Modern Magic
Catweazle was the wily magician from Anglo-Norman England who found himself catapulted forward in Time to the Twentieth Century where all modern technology seemed like magic to him. The series starred Geoffrey Bayldon as the confused magician befriended by Carrot, the ginger-haired farm-boy.
The inspiration for the series came from, of all things, a gate. "Annie and I had gone down to see her sister who's married to a farmer", Richard remembers. "We decided to go back home a roundabout way and got completely lost and passed a gate that said Catweazle on it and I just thought that was rather intriguing and wrote it on a piece of paper - this was before I started writing properly. I just found this name in my pocket and thought that would be a wonderful name for a magician.
"Originally the thing was conceived as sort of an educational programme for kids, explaining things like electricity and various other things and then I saw the comic possibilities in it."
The idea was sent to LWT and Richard was asked to write six scripts on spec by Producer Joy Whitby. He did this in Joy Whitby's office which she lent to him while she was on holiday. Because he had no typing ability, Richard wrote the scripts in long-hand and then dictated them to an LWT typist.
As he remembers, the loan of an office was not the only way Joy Whitby helped the scripts to develop: "[She] was a very good teacher because I didn't know anything about scriptwriting at all, but I knew I could write dialogue, and she taught me the rest - which is structure, the most important thing of all...
"I had a lot of help from both the Director Quentin Lawrence and Joy Whitby. And between them, I think, they taught me how to write television scripts."

Catweazle Performance
One of the things which helped captivate the audience was Geoffrey Bayldon's performance as Catweazle. It was an inspired piece of casting and it was the writer's suggestion. "I always wanted him from the word go. I was doing a thing at the BBC and he was also working at the BBC and I said, 'I've written something for you' and he said, 'what is it?' and I told him, and I said, 'I'm hoping to get it made'. I walked away from him and - he's since told me this - [he thought to himself], 'poor bugger, it'll never happen!' But it did. He was ideal and he brought so much to the part. He brought a particular magic."
Catweazle's magic was always something that was elusive. To him, twentieth century 'electrickery' or voices that could be heard through the 'telling bone' were more magical than anything he could produce. But Catweazle and his magician's lucky familiar, Touchwood (a toad that lived in his pocket) kept trying to cast spells with unpredictable results.
"I think the essence of good magic like the essence of good writing is if it happens, it happens almost spontaneously", says Richard. "I don't like omnipotent characters, characters that can do anything, like Superman and these sort of characters. I find them very boring because they can always get out of trouble. You see, even Superman has to have a weakness, so that he is no longer Superman. In a way, Superman is only interesting when he becomes human. These super heroes, they don't interest me at all, it's human weakness that interests me rather than human strengths."

Palace Revolution
After the first series was a success,Catweazle returned, but Carrot and the farm were replaced by another boy, Cedric, who lived in a grand country house. "There was a palace revolution at London Weekend", Richard remembers. "Various people went and other people took over - it happens in television, you know, there's this musical chairs that they play, they've nothing else to do the people at the top so they play this game and Catweazle suffered as a result of that. They sacked the Producer/Director who'd made it successful, which is fairly typical! I think they'd have sacked me and Geoffrey Bayldon if they could have done. The whole thing changed as a result. Somebody had the brilliant idea that a stately home would be more attractive to the Americans... So I had to go along with it because I didn't have any clout and I got talked into doing it. It worked, but not as well as the farm.
"I wanted to keep the farm and keep the characters and just keep going, do another series with the same people. It would have been easy to bring Catweazle back and for Carrot to have actually forgotten or have it erased from his mind that he actually saw Catweazle go back into the Past and then he would remain believing him just to be an old tramp who was fooled into thinking he was from the Norman period. That bit would be erased from his mind by Catweazle with his magic. However, it didn't happen like that."

Series Link
The linking theme through the second series were the twelve signs of the Zodiac. Each episode dealt with a different sign which lead people to wonder what was going to happen in episode 13.
"I had no idea at the beginning", confesses Richard Carpenter. "It sort of dawned on me about half way through that it was actual circle itself that was the thirteenth sign... The zodiac he had on the floor which should have just grown week by week as the signs were found - we weren't able to do that because we were worried about it going out in a different order; but that would have been lovely if we could have done it. That's how it was scripted, but they couldn't do it because they were worried about the fact that Americans scramble the order of things and of course we didn't sell it to America so it didn't even matter!"

Pulled Stumps
After two series Catweazle was cancelled. "They pulled stumps on it as is their wont in this country", comments Richard. "[When] you get something good they kill it as soon as they can. I'd have liked it to have gone on for five or six years like the Americans do... There have been attempts to resuscitate it, but now I think I'm a little bit frightened of it because it was so good when it was done. And also a successful series acquires a golden glow around it and consequently people probably look back on it and see it as probably better than it was so that you're really up against your own myth if you're going to write some more. Annie and I have an idea that it would make a great stage thing for kids."
"A musical", Annie Lee adds. "You could have all the magic in it, you see, and it'd be great!"

Motley
Following Catweazle, Richard wrote twenty-two episodes of Black Beauty, but returned to Fantasy with The Ghosts of Motley Hall. The inspiration stemmed from seeing a ghost when he was an actor staying at a theatrical boarding house in Liverpool. The memory re-surfaced when, many years later, he was asked to write a family comedy show. "I got to thinking, do they [ghosts] see us? And if they see us, what do they think of us? That started me off with the idea of ghosts. The guy that directed Catweazle said, 'We want to do a comedy show that all takes place in one set and it's five or six people, no more and may be one guest every week'... and I thought, well ghosts can't get out, they're sort of stuck where they are and they can be from any period in history and jogging along together so to speak. I sort of thought if there were five ghosts in this empty house, they would want to keep it empty, they didn't want people in it at all... They were five ghosts who sometimes got on, sometimes didn't get on, but had to get on because they were stuck there. Some people could hear them and see them, and it struck me that if you could create that sort of situation, you've got bags of comedy going."
The only ghost who could venture outside was the stable lad who was the character children were supposed to relate with. "In those days, and I think still today, people have this absurd idea that you have to have a child in the thing if kids are going to watch it. That's rubbish of course."

Space Boy
A rather more obscure Science Fiction serial he wrote for television was The Boy from Space for the BBC's schools programme, Look and Read. At the mention of these programmes, Richard Carpenter rushes into his study and emerges with a pile of books that accompanied the series: "That was about the most difficult thing I've ever written in my life", he says, "because you're restricted to the first two-hundred words of the English language plus a few words like telescope and telephone and television." It was originally shown in black and white, but as colour became the television norm, a problem arose when they wanted to show it again.
"The two children in it, who played Helen and Dan... had grown up, they were now young adults. So we have this wonderful opening where they're sitting on Mill Hill observatory steps saying, 'Do you remember when we were kids and we first came to the observatory?' and you do a fade and them as kids come up the drive on bicycles. Now I know of no other film or television [programme] where that's ever happened."
Some of the stories were hosted by Richard Carpenter himself. "I didn't do The Boy from Space, I think I did... was it Cloud Burst?" He picks up the Cloud Burst book from the pile on the table, opens it and points to an illustration of himself inside the front cover. "Yes, there I am." Cloud Burst was about the invention of a rain gun and the moral of the story was that technology could be used for good or evil. "I was getting at nuclear energy, really."
Even though Richard Carpenter went on to write family programmes like The Smuggler, The Adventurer, Dick Turpin and later Robin of Sherwood, he has never turned his back on writing for children. "Once I was interviewed by somebody and they said, 'Why don't you write for adults?' and I said, 'I'd rather write adult programmes for children than childish programmes for adults' - and the chance of writing an adult programme for adults is fairly remote on television."

In the second part of this interview, in a future issue, Richard Carpenter talks about creating the classic adventure series, Robin of Sherwood.
---



Middle Ages Magic

(excerpt)
(from: 'TIMESCREEN (no.21) May 1995')


A new face in TV COMIC was Catweazle, the wizard who fell through time from 1087 to 1970 in LWT's comedy-fantasy film series. The comic debut came in Issue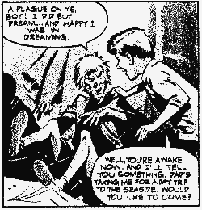 949 (21st February 1970), a week after its appearance on most ITV regions. As a one page black-and-white strip drawn in mild caricature by Bill Lacey, the humour and style of Richard Carpenter's scripts and Geoffrey Bayldon's strange performance were captured perfectly. Initially, the characters of Carrot, the young boy who befriended Catweazle, and his father Mr Bennet also appeared, although they were generally phased out after Issue 978 (12th September 1970).

Lacey also continued to draw Catweazle through to Issue 1033 (2nd October 1971) whilst ITV screened the second season in the spring of 1971. Accordingly, the new second season sidekick of Cedric (played by Gary Warren) made his debut in Issue 1009 (17th April 1971) but did not remain around for long. One of the best and funniest serials concerned Catweazle being admitted to hospital for suspected poisoning, where he had an X-ray and saw his bones photographed before him. Skulking around the hospital that night, he then found a skeleton and believed that all the bones had been removed from his body! It was notable that the subsequent story, in which Catweazle got involved in a magician's stage act, would form the basis for his next set of adventures in LOOK-IN the following year.
---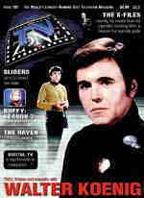 Brothers in Magic - Catweazle Returns


by Simon Wells
(from: 'TV ZONE #107 October 1998' on pages 40-44)


Something very strange, maybe magical, took place deep in the heart of Surrey, on a glorious afternoon in May. It's a bewitching scene, like a final episode of a series that was never filmed, but is now taking place...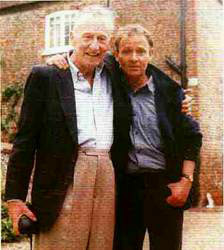 GEOFFREY BAYLDON AND ROBIN DAVIES, Catweazle and Carrot, are enshrined forever in the legend that is Catweazle; the odyssey of an 11th Century magician transported 900 years forward in Time, capturing the hearts and imagination of millions of TV viewers along the way. The two actors have returned to a place they called Hexwood Farm, the base for the locations of the first series, to talk about the series that changed their lives, and to celebrate its first video release.
Geoffrey is visibly overcome by the reunion. Robin Davies, instantly recognizable as the boy who discovered the old magician hiding in the barn nearly 30 years ago, busily surveys the scene. It's a curious sight to see them together again, peering over hedges, looking around corners as if they might both find something left behind from their past. "It doesn't seem to have changed a lot", Geoffrey sighs as he captures a few images of the farm for his camera, "and being here with Robin..." He pauses, dewy-eyed, aware of the years that have flown, "It's quite an experience."
Robin Davies cheerily recounts his memories as a 15-year-old, talking with passion about the programme he loves so dearly, blissfully ignoring his extensive television and stage career and his current blossoming career as writer/actor/director. Today he is here to talk about Catweazle.
"Geoffrey and I will always be linked as Catweazle and Carrot, a bit like Tonto and the Lone Ranger, Batman and Robin, but I'd like to say Geoffrey, after 30 years you're still my friend", he pauses, awash with a rush of memories, and asks for the filming to cease. They haven't seen each other since 1969.
Words and thoughts inevitably turn towards those fellow collaborators missing today. "I wish they were here", pines Robin at one point, as if the magic rediscovered today might materialize them: Charles 'Bud' Tingwell, veteran Australian who played Mr Bennet, Carrot's long-suffering father, still periodically turning up in the occasional programme, most recently Neighbours; Neil McCarthy, who died a few years ago, the gentle giant, unforgettable as farmhand Sam Woodyard; and of course Richard 'Kip' Carpenter, who's idea sparked it all off...

The Idea
Back in 1968, Richard Carpenter already had 300-odd television appearances behind his belt and a wealth of stage and screen credits to his name. He had the idea to write initially as a sideline, with the concept of Catweazle coming purely by chance. "We'd been down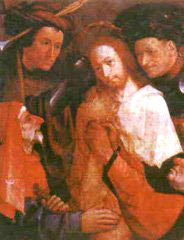 to my brother-in-law's turkey farm in Sussex one weekend, and had decided instead of taking the main road home, we'd try a different, more rural route, and we got rather lost. We'd gone down this narrow lane and I saw a gate with the word 'Catweazle' written on it, and I thought, what an unusual name. So I wrote it down and put it in my trousers, and forgot about it. A fortnight later I rediscovered it when I came to send the trousers to the dry cleaners. I started musing on it and imagining that this would be a great name for a wizard. So I began building up a picture over the following months of what he'd be like. Around that time I had a book called the Hundred Details from the National Gallery and I came across a picture by Hieronymous Bosch called the 'Crowning with Thorns'. In it there is a little man pointing up at Jesus on the cross, and I thought, this is what Catweazle would look like." (bottom left on picture on the right)
Richard's initial concept was quite different. "I thought this could be a good educational schools programme where this wizard would jump through Time and the boy would show him around the 20th Century and explain how things worked. But then I thought it's much more than that and would make a good comedy series."
Richard duly produced a series of storylines and presented them to the newly formed London Weekend Television who wanted to buy the idea, but Richard convinced them that he could complete the task, and with the use of a loaned office at LWT, set to work.

Catweazle
Enter Geoffrey Bayldon, who at 45 was one of Britain's most respected and experienced character actors. He had previously worked with Richard Carpenter at the Old Vic. Bayldon recalls, "Richard Carpenter told me that he'd written something and it would be marvellous for me and to be honest, although I was touched, I didn't take it very seriously. And then months went by and one day my agent said she'd just received a script, and instead of being cool as agents are, she just said, 'Geoffrey I've just read the first page, and I think it's yours... and it's magic'."
The idea for Geoffrey Bayldon as Catweazle had been in Carpenter's mind for some time. He championed the part for Bayldon against London Weekend's initial choice of Jon Pertwee. In a strange role reversal, Geoffrey was actually considered for the original Doctor Who, but had passed on it. "Tell them too long and too old", Geoffrey had told his agent, fed up with being presented with geriatric roles.
The idiosyncrasies of the character were Bayldon's own invention. Affectionately referred to by the crew as Catweazle's 'Fizzes', they came about purely by chance. "Some of the voices came by accident when we were shooting the second episode", recalls Geoffrey. "Robin found me hiding in a wardrobe and I made this funny noise [making a Catweazle-like squeal] and the director Quentin Lawrence liked it and asked for them to be left in, and they were eventually scripted."
Six scripts were initially asked for which Richard duly completed. But then well into shooting, LWT, realizing the potential of the series, commissioned a further seven.

On Location
Filming began in the summer of 1969 and Home Farm was transformed into the production base for the crew. Castle Saburac, the water tower where Catweazle created his magic, and one of the most memorable images from the first series, was constructed from fiberglass and located in a clearing in the woods. None of the filming took place in the tower itself but in a mock-up on solid ground.
Daily, Geoffrey and Robin would make the trip to East Clandon from their homes in London. Bizarrely Robin would have to find his own way down by public transport until Geoffrey demanded that he have a car to transport him. Travel wasn't the only problem for young Robin, as he would also have to run the gauntlet of embarrassing glares during the occasions he'd have his golden locks dyed a shock of red for the part of Carrot by an exclusive London hairdresser.
Eventually the filming drew to a close. The final moments shot against the backdrop of Boldermere Lake near Guildford were a tearful affair. The old man and young boy bade an emotional farewell, leaving a lasting impression on Robin to this day. "It was the end of Carrot, the end of Catweazle for me, and the end of my youth in a way... I had this line 'Will you come back one day?' and of course for Carrot he didn't. The tears were for real and I didn't want the camera to see I was upset."
In reality both Geoffrey and Robin had to project their lines at each other against the thunder of the A3 main road which borders the lake. The tree where Catweazle arranged his memorabilia before leaving the 20th Century is still there, very much overgrown and forgotten.

A Winner
Catweazle's 13 episodes collected rave reviews, becoming an instant classic and earning Richard Carpenter the Writers Guild award for 1971. Apart from the two books by Carpenter and a trio of large format annuals, nothing more was manufactured. Even a record of the familiar theme tune, put to words and sung by Bayldon, was never released. Nevertheless the fame of the series continued, even extending to the most popular people on the planet, as Geoffrey reveals "I did hear that the Beatles were great fans of Catweazle from Ringo, when he directed a film I was in which we shot at John Lennon's house. All of them had children and would drop everything on Sunday's to watch the series."
Geoffrey and Robin received sacks of fan mail, especially Robin, whose elfin features provoked a sizable proportion of letters from Japan and a request for a photograph from one of the Kray twins! Scenes that would rival Beatlemania occurred in Holland as thousands gathered to see Geoffrey, in character, open a sports stadium.
For a while it seemed children everywhere would disappear on Sunday afternoons. "I live in a small community, with lots of children", recalls Bayldon, "and at 5.30 on a Sunday afternoon if I was out, I'd see these children rushing past me to watch Catweazle shouting, 'It's on in five minutes'."

Series Two
A second series was immediately planned, but director Quentin Lawrence, whose understanding of the concept had added so much was not re-employed. Neither was Robin Davies. Other forces were at work to move the series into the commercial domain. A location and storyline was chosen that would broaden the appeal of the series. Brickendonbury Manor in Hertfordshire formed the backdrop, and Gary Warren, fresh from his success in The Railway Children was chosen to play alongside Catweazle in a similar role to Carrot. The overall storyline of Catweazle attempting to collect the signs of the Zodiac in order to fly was a novel idea, but mostly the magic was obscured by the playing for laughs.
Richard Carpenter observed, "As with anything that becomes successful, people were brought in who knew nothing about the series. There were a lot of political shenanigans about. The idea was that if it had a stately home with a Lord and Lady, it's something that could be sold abroad. The whole thing was slightly jazzed up, possibly for the American market, but it ended up falling heavily between two stools."

The End
Progress was nonetheless swift as the 13 episodes of the second series were completed during the summer of 1970. The viewing figures were consistently high and for a short while the future seemed bright. The final episode ended with the weary wizard leaving terra firma in a balloon and off into the unknown. Richard Carpenter had the idea for a third series to open with Catweazle's balloon drifting to a halt atop Castle Saburac, to revive some of the magic pointedly missing from the second series; but given the changes within LWT, any notion of a third season was passed over. The cast and production team moved onto other projects and the lovable sorcerer was left to fill re-run slots around the world. Rumours have persisted of a screen adaptation, and although Richard Carpenter has a long completed script, nothing has come of it.
The greatest legacy of Catweazle is that people still talk about it. Both Geoffrey and Robin have strong opinions on why it has maintained its popularity. Robin Davies: "Catweazle is a good all-round series, it's timeless. And although I'm proud to say I was Carrot, I lay the success of the series down to Richard Carpenter and Geoffrey Bayldon. I was just lucky to have been there. Very lucky."
"Magic", enthuses Geoffrey. "We didn't sentimentalize it, because the magic did it for us. We relied upon the magic of the story and the humour that comes out of someone seeing the 20th Century through 11th Century eyes."
Four volumes of Catweazle, including the reunion footage at Hexwood Farm, are out now on Network Video, priced £10.99. The second season of Catweazle will be released in October.
---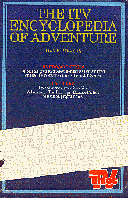 The ITV Encyclopedia of Adventure
by Dave Rogers
(First published in 1988 by Boxtree Limited © Dave Rogers 1988)


Catweazle
Created by writer/actor Richard Carpenter, this witty children's fantasy series told the story of Catweazle - an eccentric eleventh-century wizard, trapped in the twentieth century.
In an attempt to discover the secret of flight, the wizard used his magical powers to (accidentally) leap through time into twentieth-century England - and found himself totally bemused by the succession of 'incredible flying machines' and 'amazing contraptions' that modern-day people took for granted.
Bewildered by the technical advances made by man, the wizard became totally engrossed by his new environment - but never lost sight of his prime objective, to return to his own time. (A mission he accomplished by the thirteenth episode.)
When the series returned one year later, Catweazle had returned to the present day (by accident, of course) and found himself searching for the 'thirteenth' sign of the Zodiac, which would enable him to fly back to his own time.
A winner in every department (the programme took the coveted Writers Guild of Great Britain 1971 award for Best TV Children's Drama Script), the series is best remembered for the excellent performance of Geoffrey Bayldon in the title role.
---
The Encyclopedia of Science Fiction
by Roger Fulton
(First published in 1990 by Boxtree Limited © Roger Fulton 1990)


Catweazle
TV has seen some odd time travellers, but few as eccentric as the scrawny old 11th-century wizard who becomes trapped in the 20th century - twice!
This children's comic fantasy was created by actor/writer Richard Carpenter, later to script ITV's Robin of Sherwood , and ran for two season's, giving its star Geoffrey Bayldon one of his most memorable roles, albeit clothed in rags and sporting a straggly goatee beard.
Trying to discover the secret of flight, using his powers of magic, Catweazle accidentally jumps through time into 20th-century England, where he is quickly bewildered by his new environment. He thinks the electric light is the sun in a bottle and puts everything from the TV to the telephone (or 'telling bone') down to magic.
In the first series, Catweazle is befriended by farmer's son Carrot and the two share a succession of chaotic misadventures before the wizard succeeds in returning to his own time.
Series Two repeated the formula but gave Catweazle a new young companion - Cedric, 12-year-old son of Lord and Lady Collingford - as he searched for the 13th sign of the zodiac that would help him get back to Norman times.
---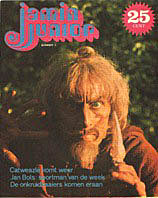 Op de voorpagina:
De grote middeleeuwse tovenaar Catweazle staat met grote ogen op onze voorpagina. Hij schrok zich een hoedje van de flitslicht van onze fotograaf, want fototoestellen en flitslampen zijn dingen die in de middeleeuwen helemaal niet bestonden en die Catweazle dus niet kende.
Op het ogenblik missen we Catweazle op het televisiescherm, maar als we goed zijn ingelicht, zal dat niet lang duren. in Engeland wordt weer hard gewerkt aan nieuwe avonturen (en Catweazle beleeft genoeg!).
In de tussentijd is onze verslaggeefster Thera Esling naar de bossen van Brickendonbury gegaan om Catweazle op te zoeken en van alles aan hem te vragen. Speciaal voor Jamin Junior. In dit nummer.



Onzichtbaar? verdwenen? of... overal aanwezig?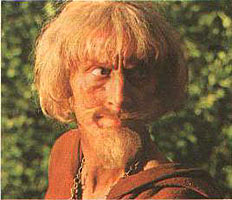 door Thera Esling
JAMIN JUNIOR Nummer 2 1972 (in Dutch!)
Elke zondagavond is Catweazle op de Nederlandse televisie te zien geweest. Nu is hij verdwenen. Tijdelijk? Voorgoed? Of leeft hij verder als meneer Geoffry Bayldon? Of is hij weer terug gegaan naar de elfde eeuw?
Hoe dan ook, hij werd het laatst gezien in het Brickendonbury graafschap Hertfordshire. Daar heb ik hem, gewapend met balpen en bandrecorder, opgezocht.
Het is een lange en moeilijke tocht geweest. Dwars door ritselend gebladerte, doornig struweel en lommerrijk geboomte. Een kleine pad wees mij jolig springend de weg. Tot ik tenslotte via een smal kronkelpaadje door een sompig moeras tot Catweazle's geheime schuilplaats wist door te dringen.
Eerst was ik erg bang. Maar hij wist me op mijn gemak te stellen. Met Catweazle is het zoals met zoveel tovenaars, heksen an magiërs: je moet hem leren kennen, dan valt hij best wel mee.
Catweazle betekent KAT-WEZEL. Die naam past precies bij hem want hij ziet er inderdaad uit als de kruising tussen een kat en een wezel. Maar dan met de afmetingen ven een mens.
"Mijn vader was een kat, mijn moeder was een wezel", zei Catweazle. "Dat geloof je niet hè? In de elfde eeuw, waar ik dus vandaan kom, geloven ze het wel. Daarom hebben ze mij uit de elfde eeuw verjaagd. Maar het duurde zo verschrikkelijk lang tot de televisie werd uitgevonden. Anders was ik wel veel eerder op het scherm te zien geweest. Maar ik heb er tot deze eeuw op moeten wachten."
Catweazle spreekt een mengsel van Saxisch en Gotisch met af en toe een woordje Druïdisch er doorheen. Toch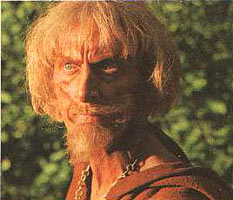 kan ik hem verstaan. Doodeenvoudig omdat hij de Hollnadse tekst in grote witte letters uit de mouwen van zijn bemoste pij schudt. Net als de ondertiteling op de televisie.
Terwijl hij spreekt, knettert en gloeit mijn bandrecorder. En thuis zal blijken dat zijn verhaal als een sinister gefluister met loeiende echo's in omgekeerde volgorde op de band is gekomen. Echt een grapje voor Catweazle. Gelukkig maakte ik voor de zekerheid ook aantekeningen. Onder het schrijven sloegen de vonken van het het puntje van mijn balpen, zodat mijn aantekeningen in het papier geschroeit staan. Dwars door elf bloknootvelletjes heen. Vond ik wel eng, maar je went er aan.
Bestaat Catweazle echt?
Bestaat u eigenlijk echt? Was mijn eerste vraag aan Catweazle. Hierop begon hij sinister te lachen. "Dat kan ik jou ook wel vragen" zei hij, met smaak een handje gedroogde pissbedden oppeuzelend. "Bestaat Thera Esling? Je ouders, je broer, je vrienden, je kennissen en iedereen die je ziet kun je nu wel denken. Maar wie weet berust dat op een magisch gezichtsbedrog."
"Ach gunst", zei ik, enigszins onthutst, "ik heb altijd gedacht dat ik bestond". "Ja-ha! Ha-ha!" lachte Catweazle, "maar je kan wel zoveel denken. Je moet voorzichtiger zijn met je beweringen. Niemand kan bewijzen dat hij echt bestaat. Echt is alleen de verbeelding die zich werkelijkheid waant. Kan ik je dienen met een spinneragsoepje? Of wil je liever een konijnenkeutelkoekje?"
"He jakkie griezel. Op de televisie eet je altijd veel minder eng."
"Inderdaad", zei Catweazle "Je moet concessies doen. Zelfs als een tovenaar. Onze reputatie is toch al niet te best.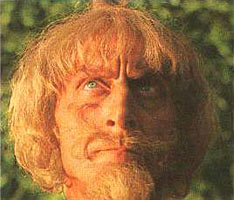 Behalve dan van die Sinterklaas van jullie."
"Sinterklaas?" vroeg ik verbaasd.
"Ja, sinterklaas. Sinterklaas is ook een tovenaar. Heeft net als ik ook al sinds de elfde eeuw bestaan. Het verschil is alleen, sinterklaas komt eens in het jaar en ik eens in de week. Zo lopen er nog meer tovenaars rond. Fred Kaps bijvoorbeeld, die eens wereldkampioen goochelen was. Ja, jij denkt dat het een goochelaar is. Maar in werkelijkheid is het een tovenaar. De meeste wereldkampioen goochelaars trouwens. Ze lopen in rokkostuum, doen net alsof ze mensen zijn. Maar je moest eens weten!"
"Sjonge sjonge, Catweazle, daar was ik nooit opgekomen". "Je kunt toch wel nagaan, meisje, dat geen mens ter wereld een glas water in een glas melk kan veranderen?
Zoals Fred Kaps doet! Daarom geeft hij zich voor mens uit. Dan krijgt hij veel meer waardering. en een menswaardig bestaan. Daarom denk ik er sterk over om me binnenkort in een mens te veranderen. Het heeft een boel nadelen, maar die kriebelsnor, die kriebelpij en die lompenwikkes aan m'n voeten is ook niet alles. Ik heb mijn paalwoninkje verwisseld voor een verlaten station. 's Nachts spook ik daar rond, overdag mens ik zo'n beetje. Om vast te wennen aan een vaste behuizing. Want uiteindelijk wil ik een bungalow. Als mens dan. Maar de toverspreuken willen nog niet. Ja wat wil je, een spook is ook maar een mens. Ik heb nog een hoop hokus-pokus-poespas voor de boeg."
Spook uitzending
"Als tovenaar", legt Catweazle uit, "kun je het meestal goed vinden met geesten en spoken. Maar de spoken lusten mij niet meer. Ze werken me tegen als ik me door de eeuwen wil verplaatsen. Weet je waarom? Gewoon uit jaloezie. Omdat ik succes heb op de televisie! Ze vinden dat kun je niet doen als tovenaar. Maling aan! Omdat ze zelf te bang zijn. Want het zijn dreutelaars hoor. Zo bang als een wezel voor het kleinste kiertje daglicht. Ik ben een kat-wezel, daarom ben ik maar half bang. Natuurlijk was ik bang voor al dat schelle licht van de televisie-camera-ploeg. Ja wat dacht je. Maar ik heb gewoon mijzelf bezworen."
Laatste vraag, wanneer kom je weer op de Nederlandse televisie? "Op de elfde van de elfde, bij volle maan op kanaal elf. Voorafgegaan door een testbeeld dat het elfde teken uit de dierenriem zal zijn", was het prompte antwoord. Plotseling begon het te stormen, een gifgroene wolk verscheen en toen was Catweazle verdwenen.

---
Copyright © 2000 Michel Snoeck. All rights reserved.
This page revised: 19 August, 2015