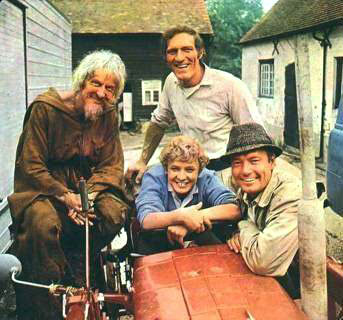 This Catweazle page attempts to provide for an overview of the Catweazle phenomena. It lists the television series, magazine articles with background information of the series and more. Then you will also find some of the merchandizing of the time. I may have some of this (not all of what you see a picture of on this website I have!), however I am still interested in additional information and or the merchandizing itself. Feel free to contact me!
Catweazle is a magician from the time of the Normans. In an attempt to escape from his Norman pursuers he tried out a spell, however instead of flying as a bird he was casted 900 years into the future. With the help of two boys he uses magic in an attempt to return to his own time. Shot on location in England it became equally popular in England, Australia, Germany and the Netherlands.
Catweazle theme (0:39)


Directors: Quentin Lawrence

(1st series)


David Lane & David Reid

(2nd series)




Writing credits:

Richard Carpenter


Year:

1970/71


Produced by:

'London Weekend Television' (LWT) [uk]


Episodes:

26


Length (each):

30 min


Language:

English


Colour:

colour
Starring:

Geoffrey Bayldon .... Catweazle
(Dutch bookcovers)
Robin Davies
.... Carrot Bennet
Charles 'Bud' Tingwell
.... Mr. Bennet
Neil McCarthy
.... Sam Woodyard

Gary Warren
.... Cedric Collingford
Moray Watson
.... Lord Collingford
Elspet Gray
.... Lady Collingford
Peter Butterworth
.... Groom
Gwen Nelson
.... Mrs Gowdie
Episodes 1st series:
( airdates [uk]: 15 feb/10 may '70 )
Episodes 2nd series:
( airdates [uk]: 10 jan/4 apr '71 )
1. The Sun in a Bottle
2. Castle Saburac
3. The Curse of Rapkyn
4. The Witching Hour
5. The Eye of Time
6. The Magic Face
7. The Telling Bone
8. The Power of Adamcos
9. The Demi Devil
10. The House of the Sorcerer
11. The Flying Broom-Sticks
12. The Wisdom of Solomon
13. The Trickery Lantern
1. The Magic Riddle
2. Duck Halt
3. The Heavenly Twins
4. The Sign of the Crab
5. The Black Wheels
6. The Wogle Stone
7. The Enchanted King
8. The Familiar Spirit
9. The Ghost Hunters
10. The Walking Trees
11. The Battle of the Giants
12. The Magic Circle
13. The Thirteenth Sign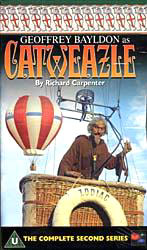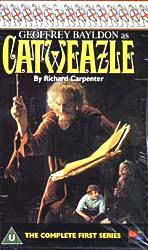 Catweazle on video
All the 26 episodes are available on video. Issued during 1998 in England, all episodes on 8 tapes. 2 years later also available as 2 box sets. Once available from 'Blackstar'.
Added on this video release is 'Brothers in magic', a 20 min reunion of Geoffrey Bayldon and Robin Davies after 30 years, at Hexwood Farm location, reminiscing about the filming of 'Catweazle'.

There was also a dutch release of Catweazle (with subtitles in dutch), I don't know how many of the episodes were released (known is the first 6 episodes on 3 videos). I also don't know when they came out. Anyone out there who knows?

It appears that there have in fact been plans to bring Catweazle to the big screen. Richard Carpenter did also prepare a script for such a feature film. The film project has been shelved for the time being, however it seems that those involved are keen to revive the project.
The official release of the video's took place on saturday 4th July 1998 at the 'Forbidden Planet' in London at 12.30 in the afternoon. Geoffrey Bayldon & Robin Davies arrived there to promote and to sign the video's.
Catweazle publications based on the television series: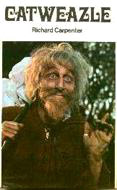 The television episodes are narrated in these 2 publications. 'Catweazle' & 'Catweazle and the Magic Zodiac'. Both written by Richard Carpenter and with illustrations by George Adamson. Published with Penguin Books respectively in 1970 & 1971. From both titles appeared also hardbound copies, the Magic Zodiac is known to have a dust wrapper, published with Methuen & Co Ltd.

From both books there appeared also a dutch translation: 'Catweazle, de Tovenaar van Saburac' (1971) & 'Catweazle, de Tekens van de Dierenriem'(1972), a publication from Van Holkema & Warendorf, Bussum (see illustrations elsewhere on this website or click here).

On the right here a German translation of the 2nd book, published in 1974 by Ravensburger.
Catweazle Annuals:
To my knowledge 3 annuals were issued, respectively there was one for the following years: '1971', 1972 & 1973. All were published with World Distributors (Manchester) Limited. As a common use annuals are copyrighted one year earlier

(ex. Annual 1973 has ©1972)

. Please note that the 1971 'annual' has a erronic copyright year, namely MCMLXXX (=1980), this should have been MCMLXX (=1970).
They contain reading stories with colour illustrations, strip stories, magician tricks, games, riddles and so on...

| | | |
| --- | --- | --- |
| Annual (©1970) | Annual 1972 (©1971) | Annual 1973 (©1972) |
| | | |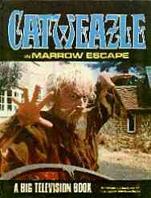 Marrow Escape (1970)
On the left another publication from World Distributors (Manchester) Limited as were the 3 annuals. This is however a very thin publication and only carries the story 'Marrow Escape' with colour drawings (on the television this story was entitled: 'The Battle of the Giants'). This appears the be much harder to get than the annnual publications.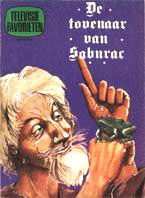 Televisie Favorieten #15 (1971)
Here on the right you see a dutch compilation of the Catweazle Annual for 1971 & 1972, mostly its contents is taken from the first Annual, however 2 strip stories have been taken from the 1972 Annual. Noted is that all the strip stories in this dutch compilation are printed in full colour, when in the original english Annuals they appear with only one supporting colour. It was part of a series for 'Television Favorits' , the last one in the series (#15).
Miscellaneous Annuals and other magazines with Catweazle:
Magazines:
Annuals:
'The Hertfordshire Mercury' 21st August 1970*
'Look-in' TV-magazine from 1970-72*
'Time Screen' spring 1990* & may 1995*
'Starburst' (?)
'Fantasy Image' (?)
'TV Zone' #46 sept 1993* & #107 oct 1998*

'TV Comic Annuals' 1971 & 1972
'Look-in Television Annuals' 1972* & 1973*
'All Star Television Annual' 1973*
'Look-in Holiday Special' 1972


There were also some publications in the Netherlands:
'Televizier' TV-magazine ca jan/jun 1972 ('Catweazle en de Zilveren Schat' -5 episodes, probably a total of 10-12 episodes-)
'Jamin Junior' #2 1972* & #8-26

These may contain Catweazle stories (they may be as a comicstrip or simply a written story with illustrations). The ones marked with * have articles in them relating to Catweazle. For full listing and texture of these articles (and more!) please click here. They usually contain interesting backgrond information about the series or other.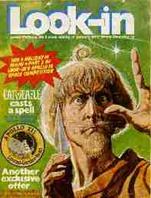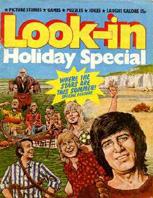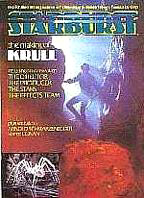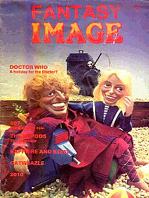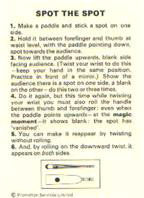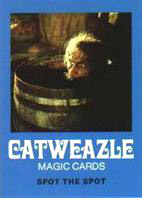 Catweazle Magic cards: (© Promotion Services Limited)
Available through 'Ready Brek' in 1971 (apparently also through 'J. Lyons Ice Cream'). This is a set of 16 unnumbered & undated cards. The size is 2½' x 3½' (6,25 x 9 cm). On the frontside they have all a photo illustration of Catweazle with the name of the trick at the bottom. The backside provides the information of how the trick is performed. There are: 'Magic joker', 'Magic tubes', 'Magic handkerchief', 'Magic penny', 'Magic escape', 'Vanishing sixpence', 'Vanishing wand', 'Vanishing coin', 'Vanishing rubber', 'Vanishing tumbler', 'Reappearing tumbler', 'Spot the spot', 'Boomerangs', 'Loopy loops', 'Catching a cigarette', 'Colour power'.

Catweazle Fortune Telling cards:
There are some rumours about another set of 16 cards which were circulating at about the same time. However this has not been verified as yet. Anyone who can shed some light on this?
Germany

Playing records

Cassette tapes

Catweazle
'Die unglaublichen Abentauer eines Zauberers'
Fontana 27 482-9
Philips ?7172 ???
Catweazle 2
'Geheimnisvolle Zauberei'
Fontana 27 513-1
Philips 7172 183
Catweazle 3
'Die Flucht aus der Gefangenschaft'
Fontana ?
Philips 7172 234
Catweazle 4
'Der Schatz der Collinfords'
Fontana ?
Philips 7172 235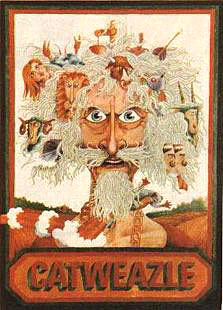 Catweazle poster: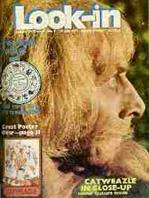 A Catweazle poster is advertised in 'Look-in 23 Jan 1971'. Printed on heavy cartridge paper, size 30' x 20'. Price: 30 pence.

Then in the Netherlands you were able to win this poster in a drawing contest. This was advertized in 'Jamin Junior' #16 1972 (100 posters were made available). The winners of this contest were announced in the last number of this magazine (#26 1972). Besides these posters you could also win other things.
Catweazle 'Bendy' doll:
'Made in England by Bendy' ca 1970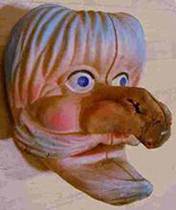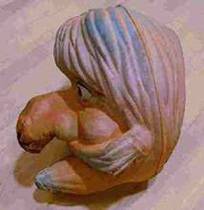 ---
Copyright © 2000 Michel Snoeck. All rights reserved.
This page revised: 15 September, 2019